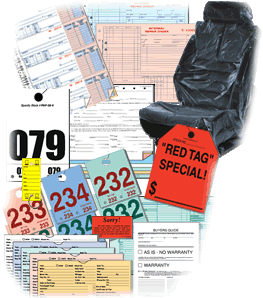 Dealership Products - CLICK HERE FOR PRODUCTS CATALOG !Software Compatible Forms - Work orders, Service Invoices, Accounts Payable and Payroll Checks, Parts Invoices and Statements.
Dealership Products Catalog - Buyer Guides, Service Tags, Time Tickets, We Owe Forms, Odometer Statements, Receipt Books, Deal Jackets, Parts Special Orders and more.
Office Products - Buyer Orders, Business Cards, Letterhead, Envelopes and more.
Autofile - Automotive Color Coded Filing System and Supplies.
Promotional Products - License Frames, License Plates, Key Rings, Dealer Decals, Service Reminder Stickers, Windshield Advertisers, Banners, Brochures and more.