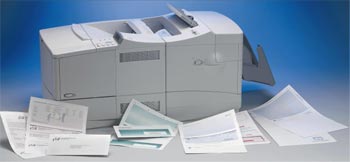 Stock & Custom Mailer Solutions
Form Solutions offers Continuous Mailers and Laser Pressure-Seal Mailers. Both are available as stock and custom formats. Pressure seal is quickly replacing many envelope mailing systems. This unique process allows you to create the information document and the outgoing mailer from one document. Once printed, the document is folded and sealed in a special machine that seals the document using pressure. There is no heat or water necessary in the sealing process.
Pressure seal is ideal for payroll, accounts payable, tax forms, and any one-way notification. In addition, special designs may be used to create a return envelope as well. By switching to pressure seal, you can eliminate the need for envelopes, stuffing time, print time, storage, loss to damage or humidity and errors in mailing. This product is available in many sizes and formats. Additional features such as integrated labels, integrated cards, numbering and bar coding can be applied.